The bag that helps you engage with consumers
Paper carrier bags are an excellent vehicle to project the brand image of retailers. Paper is very tactile due to its texture and shape. Its outstanding print quality and colour reproduction allow for great creativity in advertising and development of the brand image. Furthermore, they achieve maximum visibility and great appreciation from customers. Paper bags create emotional links between the retailer and their customers who often use them to carry their personal belongings.
Showing environmental commitment
Paper bags are in line with a modern and sustainable consumer lifestyle. Using paper bags involves giving a clear signal of commitment to the environment and improves the quality of life of consumers. By using packaging made from renewable, recyclable and biodegradable sources, retailers and brand owners contribute to reducing the use of non-biodegradable carrier bags and promoting greater environmental education. Thus, paper bags are a visible part of the corporate social responsibility that a retail brand can develop
Consumers prefer paper
Aspects of a sustainable lifestyle become more and more important for European consumers.
This mindset is reflected in changes in consumer behaviour: according to a survey3 72% of consumers buy more environmentally friendly products today than five years ago. And 81% plan to buy more environmentally friendly products over the next five years. Also, a product's packaging plays an important role: 72% of Europeans prefer products with environmentally friendly packaging.4
Consumers like paper bags best for environmental factors such as recyclability (52%), compostability (47%) and because they are made with renewable materials (43%).5
For more information on how paper bags enhance your brand in retail and help you engage with consumers, please turn to The Green Book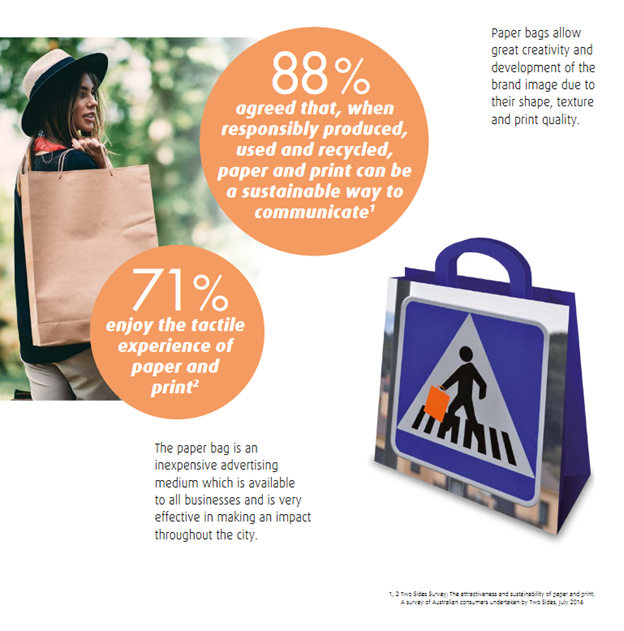 ---
Accenture Chemicals Global Consumer Sustainability Survey, 2019
IRI European Shopper Survey 2018
Two Sides Report: European Packaging Preferences 2020. A European study of consumer preferences, perceptions and attitudes towards packaging, May 2020, base: 5,000 consumers in nine European countries